Welcome to the Linux Foundation Forum!
QtCAM - Open Source UVC Linux Camera Software
QtCAM is e-con's open source Linux webcam software. This Qt Linux camera software application provides easier user interface for capturing and viewing video from devices supported by Linux UVC driver. It would also work with any V4L2 compatible device.
Qt Camera Features
Image Quality Settings – Users can adjust brightness, contrast and camera supported UVC controls.
Still Capture Settings – Users can select image type (JPG, PNG, RAW, BMP) and the location to save the image.
Video Capture Settings – Users can change the preview based on the selected format and resolution. Allow users to view number of frames played and get FPS information.
Supported Image types: JPG, PNG, RAW, BMP.
Supported encoder formats: YUV, MJPEG, H264, VP8.
Supported containers: mkv, avi.
Extension settings available for selected e-con cameras.
The key differentiators of this Linux camera application are - it has 10+ image control settings, frame rate (FPS) display, colour space switching and extension settings for select cameras.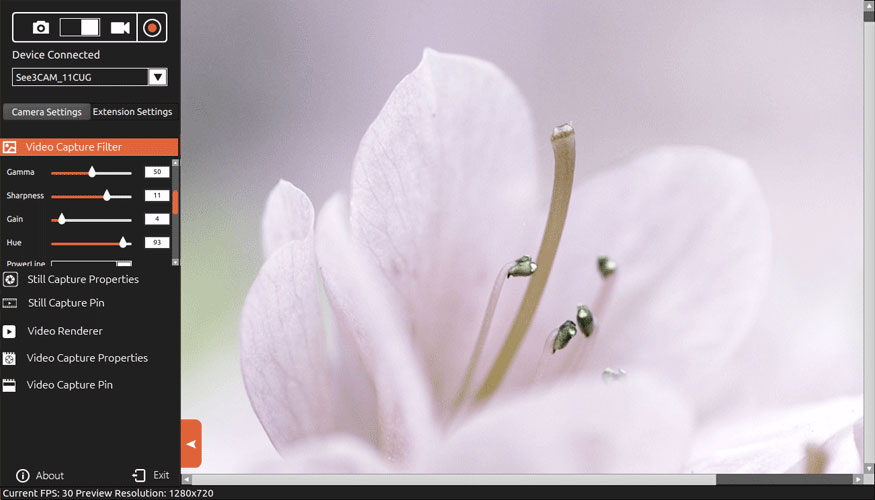 Comments
Categories
51

LFX Mentorship

576

Linux Foundation IT Professional Programs

5

Express Training Courses

2.1K

Training Courses

903

Hardware

763

Linux Distributions

479

Linux System Administration

68

Mobile Computing

1.2K

New to Linux

538

Off Topic

826

Programming and Development

928

Software

61

All In Program