Welcome to the Linux Foundation Forum!
Lab 3.4 - Curl command to exposed service is unresponsive.
Hi- I am able to run everything in lab 3.4, and even went through the previous sections of lab 3 to confirm I didn't miss something again. Everything goes smoothly except when trying to reach the service itself; albeit by the 'cluster ip' or the 'endpoint'. I have been to calico's site, and tried looking for some solutions. 'tunl0' is up on both the master and worker nodes, however I am unable to curl or telnet. Curl fails on the worker node itself. I have included some screenshots, but not sure what else to do in order to validate that calico is fully operational other than to ping or curl. Thanks.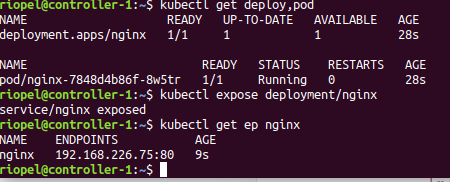 Comments
Categories
51

LFX Mentorship

576

Linux Foundation IT Professional Programs

5

Express Training Courses

2K

Training Courses

903

Hardware

763

Linux Distributions

479

Linux System Administration

68

Mobile Computing

1.2K

New to Linux

537

Off Topic

826

Programming and Development

928

Software

61

All In Program